The Art of Not Knowing – or How to let yourself be positively surprised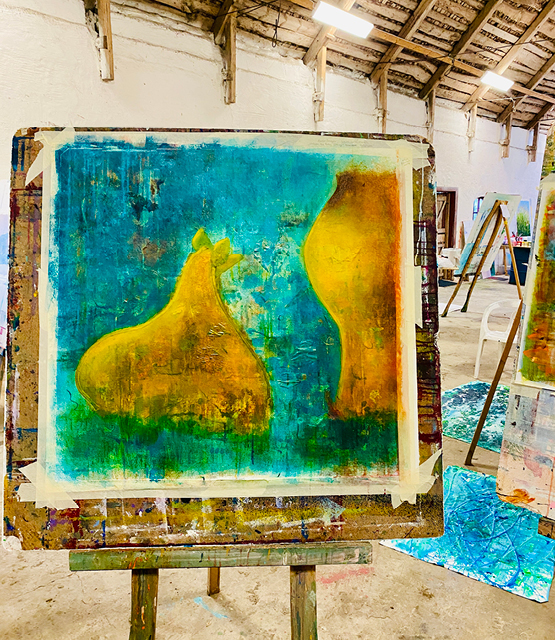 Expectancy. As a painter, I try hard not to expect anything.
When starting up this painting in the old barn on Öland this summer, I just played with the paint, some pieces of paper and yarn, and my own hands, putting it onto the canvas ad hoc, harboring absolutely no ideas about what it was to become – just having fun.⁠
Then suddenly, sitting with the canvas, I see a form taking shape – isn't that a dog…?
And isn't that a pregnant belly…?⁠
I promise you, if I lived for a hundred years, I don't think I would have come up with the idea of painting a dog and a belly! I am no dog person, and I am so far from pregnancies (as long as you don't talk about my paintings/babies!) in my life – but as soon as I saw it emerging on the canvas, I loved it.⁠
These wonderful surprises, showing up on the canvas when you least expect it, are the main reason why I paint intuitively.
Every time it happens, it makes my heart overflow with joy, and I get this feeling of… co-operation… or connection.
What do you think could emerge – and positively surprise you – in your life if you let go of trying to plan it all?
If you just let life (i e, your canvas) show you the way while you just play, trusting the process?
If you let some more co-operation, or connection, into your life?
It's a valid question. Right? But also a scary one… I invite you to try it out, one small step at a time.
The result may (will!) surprise you, positively…